Hello Friends!!! And thank you for waiting until today to really hear about our fantastic experience at Carnegie Hall! I appreciate your understanding that we wanted to really soak up our time there, and that meant that if you didn't happen to have any of us personally on Facebook, you were probably missing out on some of the action - so Thank You for waiting... and here we go!
WOW! What can I say?! It was an incredible experience. There is something to be said for your first steps, and first breath on the stage at Carnegie Hall. I personally chose to not take my phone, and therefore camera, with me. It was an entirely personal choice (perhaps a poor one considering I'm writing the blog and all...) but it was because I wanted to really take in the entire space, and the enormity of it all. A few years back I had the pleasure of taking the Carnegie Hall tour, and it was incredible - but they don't let you anywhere near the stage. Oh, they tell you amazing stories, and all about the history... but you don't get a crack at that stage... and that's totally fair. It's a sacred space as far as I'm concerned... but that made me even more determined to treat it with respect and the awe that fascinated me about it in the first place...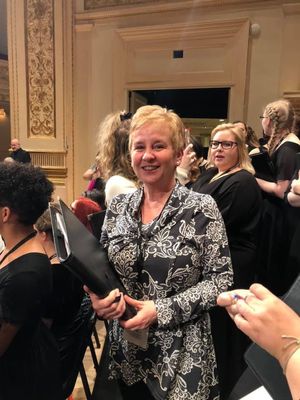 That said, I couldn't let this blog go by without a snap of our fearless leader looking right at home on stage at Carnegie Hall. And I thank the many ladies of Les Ms. Women's Choir, and their family and friends, who have supplied some of the photos for today's blog piece. You have to understand the joy, not just present in ourselves because we made it there - but present in us as a whole because this incredible woman brought us there; physically, emotionally, spiritually, and musically. 
We stretched our own vocal ranges, and styles to learn the necessary music for this concert. And at no point did Valerie ever criticize or get concerned about our abilities - she was our biggest cheerleader - and I know I speak for everyone when I say, her belief in us made us, and continues to make us, the choir that we are today. And so the thoughts, photos, and stories I share with you now were literally made possible because of this wonderful woman, and her ability to make a choir, a family.
Our first rehearsal on the stage at Carnegie was a sight to behold - they tell you that you might get overwhelmed, but man are they seriously knocking you down a peg! I kid you not - it was an amazing sight to not just look out into the audience of the Hall, but to see so many people staring out into this abyss of red seats and dimmed lighting, just waiting for something to happen... to say this experience has been life-changing is an understatement.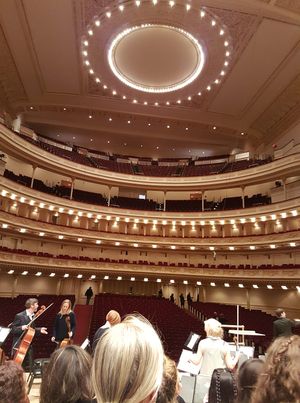 Then, the jitters start to wear off and you realize how incredible, and incredibly huge the space is... we're talking like 3000 seats here... and you can literally see everyone's face. I kid you not. Even during the concert I could pick out the faces of my family and friends who were sitting all throughout the house! So if you're someone who likes the auditorium darkened to ease your stage fright, Carnegie Hall my friends, is not your bag. Personally I love being able to see the reactions of people - and watching them enjoy the music I'm enjoying performing. It's a huge rush!


We began singing through the songs in concert order - and can I tell you a secret? The orchestra was the icing on the cake! Don't get me wrong, our rehearsal and performance pianist was fabulous. And he tours and performs with Dr. Menk's choirs, so he is absolutely brilliant. But, there is something to be said for finally hearing the strings play the intro to a piece that up until Sunday (performance day) morning has always been played on piano - it's magic. Watching magic happen, and being a part of magical happenings - seriously, there's nothing greater. The way that our songs and harmonies just dropped into the orchestra's playing - it was like sinking into a warm bubble bath - luxurious, relaxing, and the most incredible feeling of warmth just washing over you. So, if you can't afford to get to Carnegie Hall, just draw a nice warm bubble bath and soak it up!
I kid, but seriously - you get a feeling from head to toe that is indescribable ... unless you find my bathtub metaphor useful that is...
Then came the performance. WOAH. What an immense feeling of "imposter syndrome". It was literally like, "oh my goodness, is this really my real life?", I couldn't believe for one second that I was standing on that stage, AGAIN... and about to perform to a basically sold out house, at Carnegie Hall! How surreal can a moment get?! Honestly... I just can't fathom it... and I don't think any of the other ladies could put into words really and truly what it was to be in that hall, on that stage, for the second time in one day...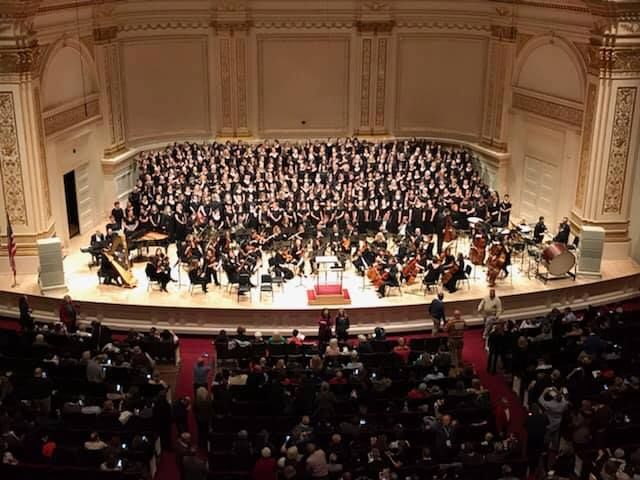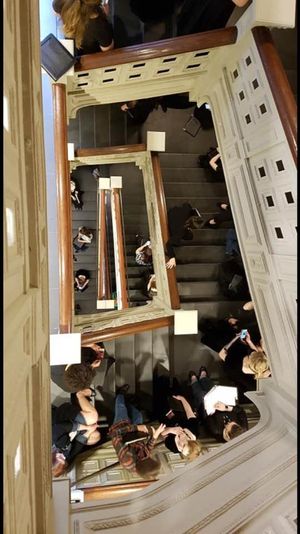 You know, I think that sometimes when you do theatre, or shows frequently, you often become desensitized to things like stages, and lights, and the enormity of it all... but then a moment like this comes along and you quite honestly "check yourself". You stand a little taller, and you smile a little wider - in fact, I think your whole body just lifts. There's this lightness to you, you're on cloud nine. Except that, you're using every single muscle in your body, so in fact when all is said and done and the concert is over - you ache from head to toe! But it's a good ache. An ache I wouldn't change for the world... 
Then again... maybe it was just all those stairs!!!!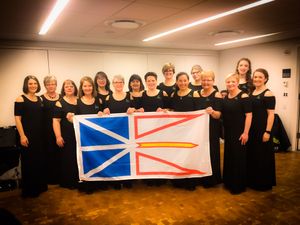 After the concert (which went amazingly well!), we were all invited to Rosie O'Grady's for a post-concert soiree. It was a wonderful catered affair, and we represented well for St. Paddy's day with our green fascinators and then some!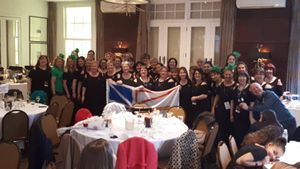 We made sure to bring some traditions from The Rock to Manhattan by performing, once again in an NYC debut, Dr. Valerie Long's arrangement of Jack Was Every Inch A Sailor. And of course, we sang The Ode to Newfoundland as well. You can check out our video of this particular moment on our Facebook Page. Once we got the ball rolling with songs from our home, the other choirs that comprised Dr. Menk's choir for this DCINY Magnificat Concert followed suit, and we heard the beautiful harmonies from both her current and alumnae choirs as they sang their school song. Chills do not even begin to describe the moment. It was so wonderful to share such incredible memories with so many wonderful women.
Honestly, I'm not sure how to close out this blog - the thought that we no longer need to document our trip because it's "over" is still so foreign to me. I feel as though I shall be reliving these moments for days, weeks, months, and years to come... and so all I can say is Thank You. Thank you to our readers and supporters for following us from afar. Thank you to our families and friends who made this trip possible in so many ways; whether it was financial support, physical support and joining our trip, or support from home with house, pet, and child care... and more. We are truly grateful for everyone who made this experience possible. And so I urge you to stay glued to our Facebook page, even though we're all heading home now - or are already there - we will endeavour to keep posting tidbits from our travels and sharing memories of our time in NYC. 
Pictured below is our amazing director, Dr. Valerie Long, with our director and conductor for the DCINY Magnificat Concert, Dr. Menk.