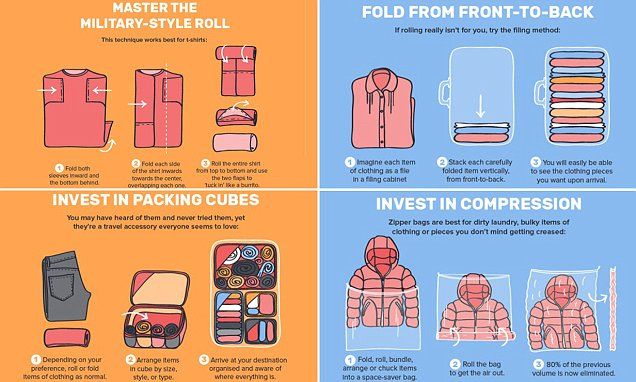 Hello Friends! It's packing day in my house because we are getting ready to head to New York City! Yippee! And it's time for the age old discussion of packing styles! Do you roll or do you fold?! Seriously, is one style more effective than another? 
I am personally a total roller. I like to roll as much as I can - for starters I find that it fits better in my suitcase, but I've also noticed that when I roll my clothing, I encounter less wrinkles when I make it to my final destination! But I would love to hear your experiences because it also comes down to whether you actually put your clothing away at your hotel or whether you live from your suitcase, doesn't it? 
I think, and correct me if I'm wrong, if you're the type of person who will find the ironing board and iron at your hotel then it probably doesn't matter how you pack that case? But if you're the type of person who likes to always be on the go, living from the suitcase, and probably only packing a carry-on for your vacation anyway, then rolling is right up your alley! 
And, if you're like me and travelling with a mini human (my son is 15 months old), who likes to make messes then you probably are all about maximizing your space! For anyone else travelling with little tykes I picked up this awesome tip : put their outfits for each day in a ziploc bag. You can suck all the air out for smaller shapes for packing AND you have a handy dandy laundry bag for each day that you can pop into your diaper bag for spills and messes... or if there are no messes, use that ziploc for snacks, leftovers at the restaurant and more! 
Now if rolling really isn't your bag, then you might want to consider the "filing" method for filling your suitcase. It's a simple reorientation of your packing — all you do is fold your shirts and pants into similar sized squares (have you "Marie Kondo'ed" your wardrobe yet?!), and insert them into your bag/case as though you were filing important documents! And if you're really into doing your case in true Marie Kondo style, why not consider some packing cubes? You can file or roll your items inside, keeping like items together (socks, undies, t-shirts etc), and then load up that case like a Tetris Master! 
But of course, if you really just can't be bothered... toss everything into a vacuum sealable bag, haul the vacuum out and suck up all the air! That'll flat pack the sucker ASAP!!! 
Time to get rolling, so I can ROCK in The Big Apple! 
NYC in T minus 1 day!