Hello Friends! Double whammy of a day coming right up! First an update from last night's experiences - and coming later today, some words about our first rehearsal for DCINY Magnificat.
The ladies of Les Ms. Women's Choir and HHMAC, a grand entourage indeed, took New York by storm last night and attended Come From Away live on Broadway. And b'ys, what a SHOW!!! If you can make it to NYC, Toronto, London to see the show, you NEED to go. Apart from just being packed with incredible talent, and written by incredible talent, performed by incredible talent... you must remember, it comes from incredible place. It comes from people like YOU, and people like US...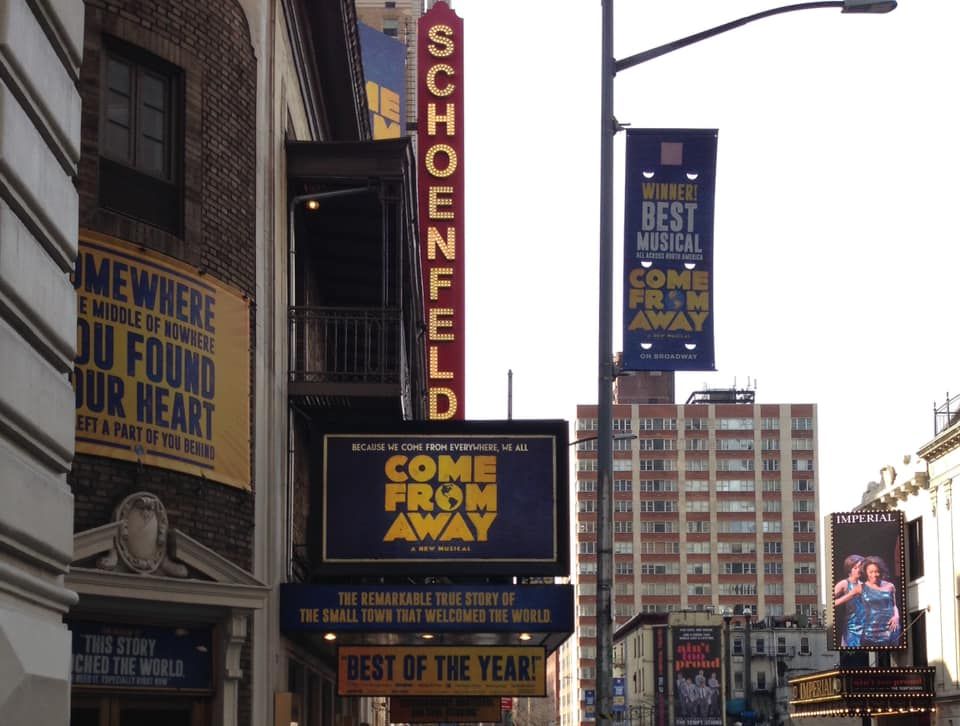 So while I, as a CFA living in Newfoundland, perhaps have a different experience of the production, it hit me hard in the feels. While I would hate to disclose any information about the performance if you don't know the show... but suffice it to say, our Islander-filled audience made an impression on the cast. We were THE FIRST audience to break out in song at the end of the show, with flags waving. Because what better way to say Thank You for an incredible night of entertainment and storytelling than with The Ode to Newfoundland.
AND, I am told that some riffs were taught to the guitar/bass player to add to his solo at the end of the show! Newfoundland is having a very clear and profound effect on New York, and indeed the rest of the world who is able to get a slice of The Rock here in Manhattan.
So, below I have a selection of photos from the wonderful women who attended the show last night - I hope that you enjoy seeing the pride and sheer JOY we were all filled with from the moment we stepped up to the theatre. Thank you to musician Romano Di Nillo for some stage time for some of our lucky choristers. And a HUGE Thank You to all of the performers for indulging us at the Stage Door, it was a pleasure to be a part of your performance, and to share the magic with you all. 
The ROCK is IN New York.