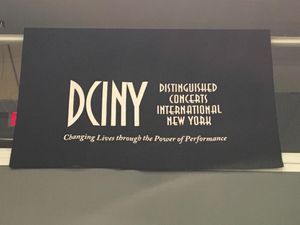 Hello Again Friends!
WOW! Our first day of rehearsals for the DCINY Magnificat Concert and seriously - what an amazing sound we created alongside so many wonderful all-female voice choirs! It was such incredible energy in that rehearsal hall this morning - and we are truly blessed to be in such a phenomenal experience.
Kudos to our director Dr. Valerie Long for preparing us ever so well for these challenging pieces. The music is rather intricate in many cases, and we were more than prepared to tackle it today. We heard the solo performances of our soprano soloists for the concert today as well - and let me just say... if you are attending the concert on Sunday, you are in for a real treat!
The combined choir is robust, and full bodied - yes, I totally described a glass of wine there too - but honestly, if you get to hear this concert, you'll understand exactly why I chose that metaphor. You see, it's not just a massed choir of other small choirs. It's a massed choir of multiple generations of choirs, and varying levels of training - a blend of voices, much like a vintner combines different grapes, from different regions to create some of the most intricate flavoured wines. The Les Ms. style is generally upbeat, jazz, and filled with movement -- the pieces we are performing on Sunday are very different, but no less challenging or interesting or beautiful than our usual repertoire. The choirs represented, other than our own, come from all over the United States of America, and the ages range from a beaujolais nouveaux, through to the very best aged old vine zinfandels. The sounds we created were smooth and luxurious, and filled the hall with a resonance I have not experienced in an extremely long time. And this was only the rehearsal hall... just wait til we hit that stage.
Just to give you a rough idea of the immensity of this performance, here's a snap from the rehearsal hall.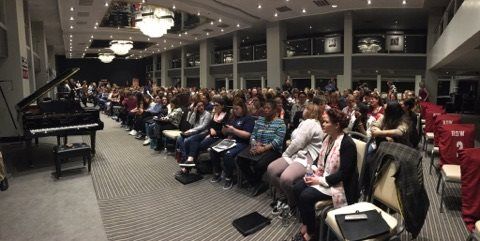 The choir has been arranged SSAA style, and all choirs are intermingled and arranged by height so that the view from the audience of Carnegie Hall is of a beautiful picture to compliment the beautiful sounds we will create. Les Ms. has a few lucky ladies in the front row of the choir, so if you'll be in the audience on Sunday you'll have to look for those familiar faces! It was an honour to get to know the ladies around me, and I'm sure the same could be said for the other members of our own choir who chatted with their seating neighbours.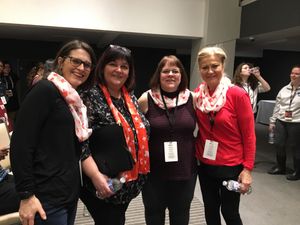 And, sitting amongst other choirs, and choirs directed by our Magnificat Concert director Dr. Menk, it was truly a wonderful experience to feel so unbelievably prepared as I mentioned above. We truly were hitting the right rhythms, the correct phrasing, breath marks, and emphasis points that Dr. Menk was searching for. We were both leading and following in that hall as a choir amongst choirs. So again, I say a big Thank You to our director Dr. Valerie Long, without whom none of this would be possible. She drilled us through pronunciation, rhythm, tricky intervals, and more to prepare us for today. And today, we shone as bright as we could without dimming the light of others. In fact, I feel that our energy and our excitement for being the furthest travelling choir to participate help spur others onward. And Dr. Menk awarded us with the title of "best choir name" to boot!
We cannot wait to experience rehearsal again tomorrow, to get down to the nitty gritty with a few of the trickier pieces once again, and of course to do our director proud. We are in awe of how she does it, and inspires us to get up and do it too. Speaking of which, there was the possibility of a solo up for grabs - and we of course put our best feet forward! Check out this snap of one of our Mother/Daughter duos, Monika & Adena preparing to audition below for the solo in Canticle of Mary for Dr. Menk.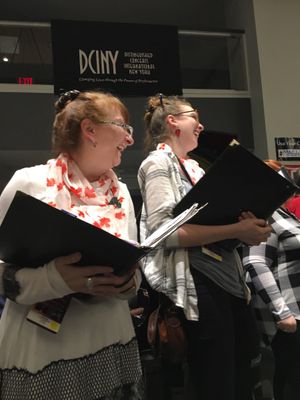 Stay tuned to this space for an insider exclusive with our Mother/Daughter teams from Les Ms. Women's Choir in tomorrow's blog post! 
And later tonight - we're heading to Planet Hollywood, Times Square, on the Second Floor for a FREE CONCERT in NYC! You'll get to hear our usual style of repertoire at this event, and don't worry if you can't make it to New York! Make sure to tune into our Facebook Page around 5pm New York time (6:30pm Newfoundland time) for LIVE footage of a few of our selections from tonight's performance.
And so it's Taa-Taa For Now, or TTFN - We'll see you TONIGHT at Planet Hollywood, Times Square 5pm, or LIVE on Facebook via our choir page Les Ms. at 6:30pm Newfoundland Time!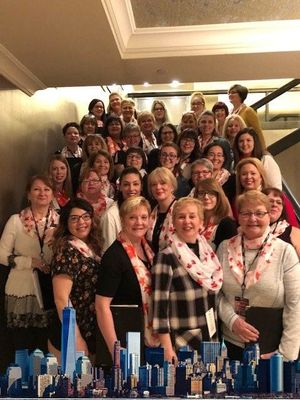 And to Dr. Valerie Long, Magnificat our dear director, Magnificat. We are ready. 
 xo