Hello Friends! I wanted to take some time today to highlight our incredible Mother-Daughter teams within our choir because they truly do bring a special quality to our group.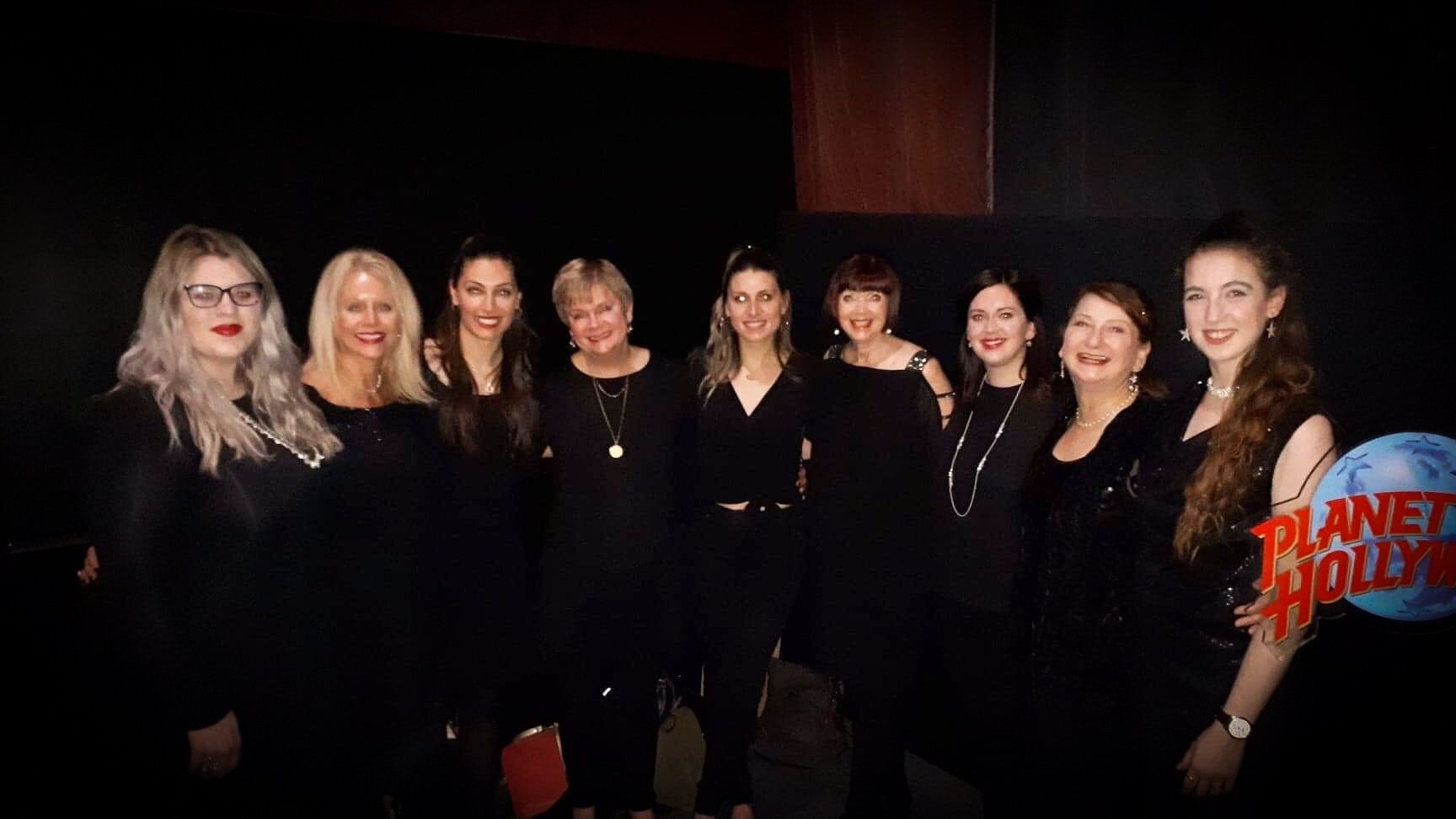 We are very fortunate to have 4 sets of Mother-Daughter teams in our midst, and it really helps bring the notion of family to our choir, and to our sound. There's something about blending your voice with family that just creates a totally different energy in the room - and hopefully some of the things these Mothers and Daughters had to say about singing in the choir together will help you to feel that!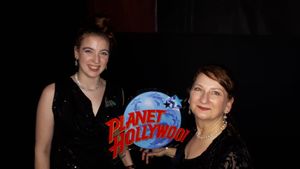 Introducing Adena & Monika - you might remember these two ladies from my post yesterday when they auditioned for a solo in The Canticle of Mary piece for Dr. Menk! 
In Adena & Monika's words this experience has gone a little something like this :
M : Singing alongside my daughter:  is a gift. To know that something I have always loved was passed on to her, that she also loves it-in spades, and that she has taken that talent and made it her focus- it's like watching a long time goal come to fruition.  When we sing together we understand each other's nuance, how we mold phrases.  And there is a timbre that matches, so that the voices can blend seamlessly. 
A : It feels very special to be able to do something we both love together.
M : Music has always been a part of what keeps me sane.  It is its own language and an alternate way to express yourself.  I hope we can always show the next generation that there see many ways to say what you want to express, and many ways to creatively connect with others. 
A : There is so much knowledge and diversity of knowledge [in the choir], I think it helps make us the incredibly strong group that we are. The veterans are always helpful, should you need guidance, as well as being a source of history and experience​​​​​​​
M : Mom mode never keeps me from anything in choir.  A : If anything, she's more mischievous than I am.​​​​​​​
Monika joined Les Ms first. A :  I think mom wanted to sing popular music more regularly, and meet some new musical people. At the time I was in music school, and wanted to work on my choral abilities, as well as sing with mother in something that had become very special to her.
M : Adena sings purposefully 2nd soprano and alto, though she has the ability to sing lyric soprano.  I sing soprano.  She has so much more technical knowledge than I do.  Her training can be so helpful, particularly as my voice ages and things become technically more difficult.  That's not to say we don't sometimes butt heads.  We are both stubborn and opinionated. 
A : Luckily those days are much rarer than they were when I was a kid and thought I was always right....​​​​​​​We've always sung together in church choir, really since I could form words, but it's a very different experience in Les Ms. Mama has been singing church music for far longer, and it was up to me to find new harmonies to go underneath descants she knew by heart. In Les Ms. we both start at the same level, not knowing the piece, and it's interesting how we learn differently, and then are able to help each other.
I feel unbelievably lucky. I live in the UK now and it's hard to be away from the life than I had curated at home. Being able to join Les Ms. again is gift enough, but doing it on a stage with that gravitas is beyond a dream. I still don't think it's quite hit me yet. I hadn't realized how much I missed singing with my mother until I was able to do it again. I think it's going to make going home just that much harder.​​​​​​​
M : This may well be the last time we ever sing together, as Adena is making her life across the ocean.  I will grab any opportunity to feel our voices resonate together. I am incredibly grateful to Valerie for extending the invitation to Adena to come back for this Carnegie Hall performance.  To stand on this preeminent stage was never so much as a thought in my head.  To do so with my daughter, the most important person in my life (sorry Paul) and a part of myself, to join our voices together, and with those of our choral sisters, is a dream I could not have imagined.
Next up, please give a warm welcome to Kayla & Kim! Some leading questions from me for all of the Mothers and Daughters led to these candid responses from these two smiling lovelies!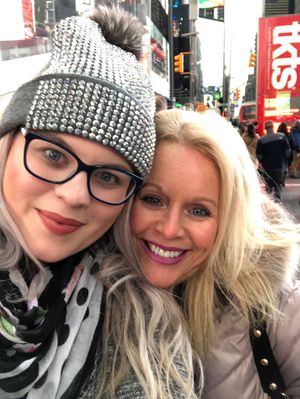 L : How does it feel to sing alongside your mum? Kayla : It's truly amazing, I am so honoured to sing with my mom & my aunt in Les Ms. I feel I've grown a lot since joining Les ms., the new perspectives I've gained have been so valuable! [Mom and I] have such a fantastic relationship, she's my best friend. 
Kayla & Kim actually joined the choir after Kim's sister Jillian was already a part of the choir and just raved about the experience!
K : Mom is a first soprano, I am a second soprano!  We have always had a great relationship, we are very close.  Choir is a great added way to see each other every week doing something be both love so much! [Singing at Carnegie Hall]  is a once in a lifetime experience! Truly amazing to be able to share it with each other! 
Kim weighed in as well on the experience commenting,  Kim :  It's lovely, it's fantastic, it's wonderful! It's a great way for us to spend time together doing something we love! I think maybe our daughters inspire us and offer a new perspective and energy to what we do. 
And Kim tells me she absolutely does not ever feel the need to stay in "mom mode" at rehearsals when her daughter is there - my guess is because like all of the Mother-Daughter relationships in our choir, these ladies are in fact true blue besties!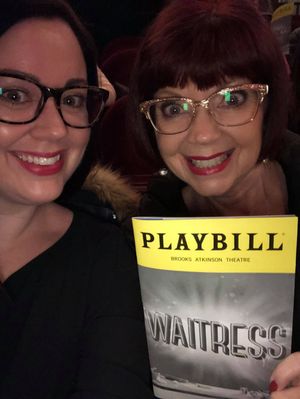 To the left here we have Meaghan and Bev! Bev, like Monika, is one of the many masterminds behind the running and upkeep of the choir. They take care of our accounts-- financially, musically, and electronically!
M : Mom joined Les Ms in 2009, and after 8 years of listening to her less-than-subtle suggestions, I joined in 2017. She sings Sop 1 and I sing Sop 2. 
Singing together feels natural because we've always sung together - we used to perform in the family class of our local Kiwanis Music Festival when I was a kid. 
In the early 2000s, my dad had a friend pull the audio from recordings of some of our concerts over the years and combine them into a CD. (Bear with me - the technology was really cutting edge at the time.) This friend also threw in his own finishing touch - a Photoshopped cover of Mom and I, standing in front of Carnegie Hall. To say that we now feel like we've come full circle is an understatement. I've already warned mom not to make eye contact with me when we get on stage, because I know I won't be able to hold it together! 
And, no, I've never refrained from saying or doing anything in rehearsal because my mom is there - Mom's naughtier than I am!
And finally, allow me to introduce to you The Kufudis! Elaine is one lucky duck, with both of her daughters, Rena & Dimitra, singing in the choir. Elaine became a member of Les Ms. first, followed by Dimitra, and finally Rena.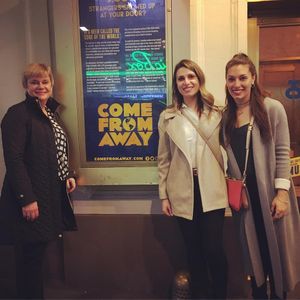 E : To sing alongside with my daughters is an amazing opportunity to connect on a different level with [them]. 
R & D : It feels wonderful to have extra family time enjoying something we all love and have grown up with. 
E : I feel a sense of pride that my daughters share my love of music and singing. I am so glad this is something that will carry on for generations to come. And I never feel that [I need to be in mom mode at rehearsal]  because my daughters are adults and I don't want to create any kind of barrier to enjoying the experience. 
R & D :  With a psychologist as a mother, there are no topics we can't discuss.
The Kufudi's have all sung in choirs at various levels their whole lives and have found it's nice to have the opportunity to do it together. Rena is sop 1, while Elaine and Dimitra are sop 2 -- so practicing can be fun with two harmonies. Singing in the car in particular! Shame they don't have any altos !
The three commented together : This wonderful experience is made even more memorable when you are surrounded by your family. We are lucky to have not only that support but also the chance to share the experience together. 
We hope you're able to catch our concert at Carnegie Hall on Sunday afternoon, but in case you aren't, we certainly hope this little sneak peek into our choir families helped you to feel a little bit more like our family too!